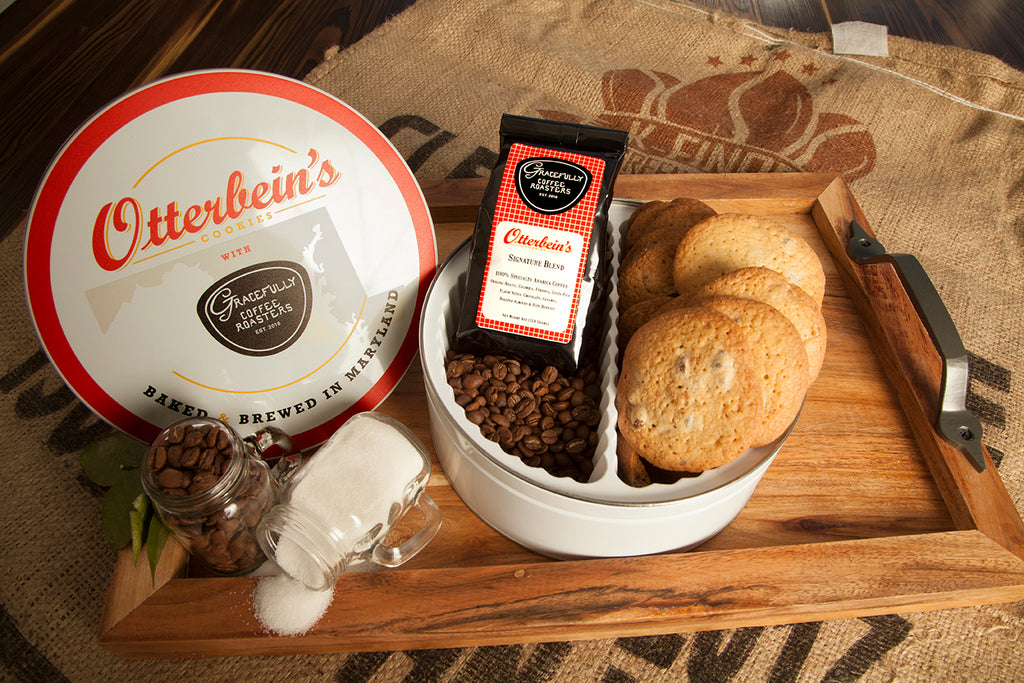 Who doesn't love cookies and coffee?! 
We are so honored and excited to be partnering with Otterbein's cookies for this exclusive "Baked and Brewed in Maryland" Tin!
The tin includes our 4 oz. coffee and a half pound of Otterbein's famous delicious cookies!
We are so grateful as a brand new coffee roasting company to be warmly accepted by a Baltimore company who has been around since 1881. To see our name on a tin with Otterbein's is truly amazing.
If you're not a Marylander or you don't know about Otterbein's history, here's a little background:
Otterbein's Cookies has been baking cookies in Baltimore since 1881 when Adam Otterbein immigrated from Germany and started a full line scratch bakery in South Baltimore. Today Otterbein's is still family owned and run but only makes their most popular item from years past, their thin, crispy homemade style cookies. Offering 6 flavors of cookies Sugar, Ginger, Lemon Sugar, Orange White Chocolate Chip, Oatmeal Raisin and their most popular, Chocolate Chip. Otterbein's Cookies are sold in grocery stores throughout Maryland and the surrounding states and still proudly use the recipes that they started with 137 years ago.
To place your order, click here! 
You can find more information about their cookies here: