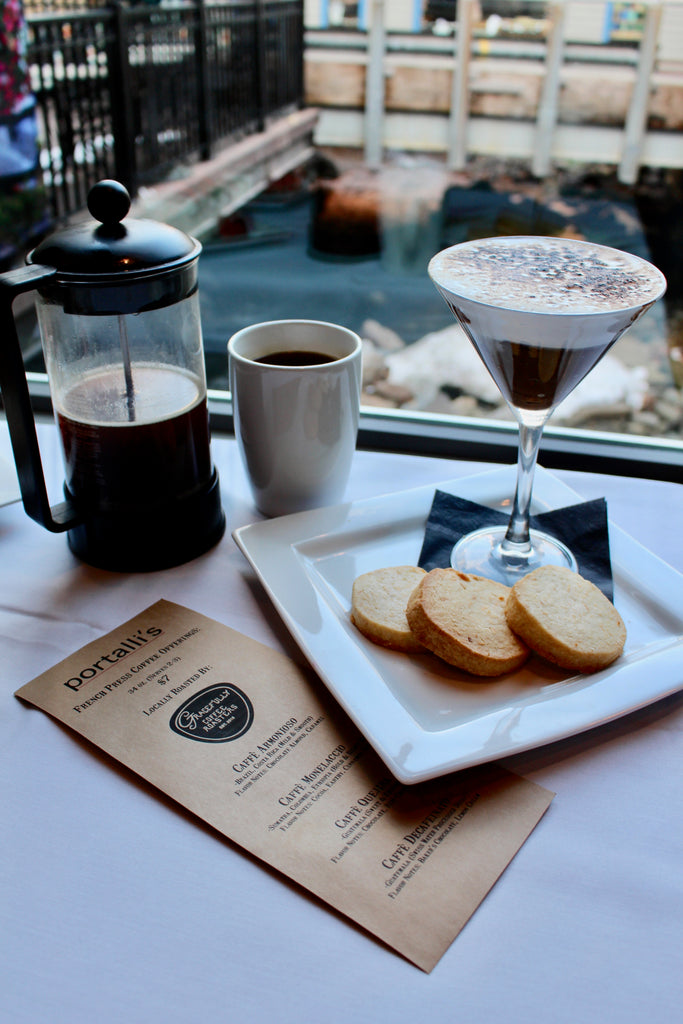 Our partnership with Portalli's restaurant happened completely by chance when we were just out of the gates as a brand new coffee roaster. We met the owners, Evan Brown and Keith Holsey by being passed along a phone number by another new client who knew Portalli's was in the end stages of renovations to re-open soon. We took a chance and were invited to meet at Portalli's to bring in samples of our coffees.
We were confident in our products because we had put so much time and effort into getting them to the point where we could launch the coffees to the public. But, being the new roaster in town and having a name that was completely unknown to anyone but our friends and family, meant that we could be faced with a lot of push back, regardless of how great our coffee tasted. 
By pure luck, they met with us, they tried our coffees and they truly thought that we would be a good fit.
Portalli's restaurant re-opened in November 2017 after being closed for massive repair and renovations due to a devastating flood in Ellicott City, Maryland in 2016.
However, the restaurant is now back and better than ever.
We're glad to have the opportunity to be the Coffee Roaster for Portalli's and to have our coffees served French Press style for their customers.
Chef Keith Holsey provided us with some background about Portalli's and a closer look into what they have to offer.
What do you focus on with your food and drink offerings and overall experience for your customers?

At Portalli's we emphasize small town hospitality while focusing on big old-world flavors. We offer traditional Italian tastes with a modern interpretation.


[Braised Short Ribs- fork tender, finished with red wine demi place
and served with roasted fingerling potatoes]

[Pan Seared Sea Scallops- roasted celery and
cauliflower risotto, tomato tarragon jus]
[Pavlova Cake- baked meringue topped with
whipped cream and fresh berries]
What updates/renovations have been made to the restaurant that we should know about?

New renovations to our space have brought our customers the ability to fully appreciate what this town has to offer and created new ways to enjoy Main Street. Our new windows allow diners to experience al fresco-esque dining with people watching in the downstairs dining room or a scenic view upstairs overlooking the Tiber River. Our new deck is just waiting to be broken in as soon as the weather breaks with renovations having made it easier to get to our outdoor dining. And our downstairs bar boasts a little bit of history - we've incorporated some of the original wooden beams which were taken out by the flood into the bar top itself. All of these thoughtful touches have created a brand new space that we're so proud to present to our guests. Every visit brings another little detail into view.
[S'more- chocolate ganache, toasted home made marshmallow,
toasted almond shortbread cookies]
What does coffee by Gracefully Coffee Roasters bring to your menu and the overall customer experience?
Portalli's embraces our hometown feel and a part of that is showcasing what this area has to offer in the way of local produce, butchery, and breweries. So too are we lucky to have such quality coffee roasters in our area. Gracefully Coffee Roasters brings robust flavors to round out the complexity of your meal. For a restaurant that values tradition, a meal ending without an offering of coffee would be unheard of; we are proud to carry on these old-world dining customs with such superior local products.
[Vanilla Panna Cotta- sliced strawberries and balsamic glaze]
Weekly events to check out at Portalli's:


Portalli's offers the only "Bacon Happy Hour" in town! Enjoy specialty cocktails at specialty prices and a bacon-centric menu M-F 3 pm - 6 pm.  
Whiskey Wednesdays features deals on individual and flights of whiskey allowing you to find a new favorite at a fraction of the price! 
Sunday Brunch brings with it bottomless mimosas and bloody Mary's and an endless buffet. Sundays 10 am - 2 pm.
[Baked Oysters- topped with bacon, garlic,
dijon creamed spinach, and parmesan cheese]
Check out our instagram all week long for more photographic features of Portalli's! Visit their website here to learn more about their restaurant in Old Ellicott City and to make a reservation.
*We will be featuring our client stories through our blog to expose these truly special collaborations that we've begun. A series of storytelling about the beautiful food, coffee, and people behind it all.*