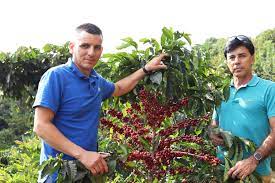 In 1968, a group of 90 small-scale coffee producers of Naranjo came together to create the Naranjo Coffee Growers and Multiple Services Cooperative, LLC. Their focus has been on processing and marketing their coffee, while also educating members about sustainable farming practices and providing agricultural technical assistance. Since its inception over 50 years ago, the Cooperative has become the pillar of economic, social and environmental sustainability for its members and the community of Naranjo.
They are happy to offer their members and the general public various services like supermarkets, warehouses of agricultural products, coffee roasters, coffee tours as well as free agricultural technical services.

La Rosa comes from four farms located in the Naranjo district. Naranjo is divided into 29 coffee growing areas that are "blessed for coffee" enjoying ideal growing conditions - soil, altitude, rainfall, and temperature - that combine to produce a unique coffee with delicate aroma, mild body and overall pleasing taste.

 Notes of Milk Chocolate, Orange and Plum.
Elevation: 1100 to 1750 meters


Varietals: Catuai,Caturra

Milling Process: Fully Washed

Drying Process: Mechanical Dryer

Roast Level: Medium
12 oz